emidokis asked: You are THE cutest Uhura EVER. and you like Thor. I like your blog. 10/10
Eep thank you!!! ٩(●˙▿˙●)۶…⋆ฺ I love to do star trek cosplay!! And my blog is about 50/50 Thor and Star Trek. But…
I don't just like Thor…..
…..
I love Thor…
…

…
I..
I AM THOR.
cigarettesandshame asked: Your uhura is flawless! How did you make that costume?
Hey THANK YOUUUU! *w* 
How to make a reboot star trek cosplay? Well……
It's all booooughttttt.

Dress:

Got it from Anovos, google it. The sell replica outfits and they do tons of Star Trek uniforms. They're expensive though =\ I gotta get a few decent wears out of this to make it worth while.
My measurements are 33-25-35 but I put on a push up bra for this to make my butt look smaller so I'm more like a 34/35-25-35 in this. I bought a size small. The sizing is tight except for the butt so use that as a reference I guess… although I do have slack around my middle but that's because I have a small ribcage. Anyway, I guess I could have taken it in but I didnt lol.
Anovos recently updated the dress to include a zipper which I'm mad about because mine is 1st generation pull on/off and pretty much needs a second person to help me undress y_y oh well, it was worth the money for the quality and accuracy since they have the screen-accurate colour/delta pattern/seams.

Pin: 
I got mine in the limited edition STXI bluray that came with the whole set, but they sell them on ebay or at anovos or any other place that has trek memorabilia.
Earrings:

I went to the actual designer of the earrings, Alexis Bittar. I have a good friend who collects their stuff and so she knew a wonderful sales lady who helped me. Look them up! The actual "Pod" earrings Zoe wore in the movies are elusive but they had a similar style called "Lucite Sliver" in that were similar so I got those is silver and gold.
I have red ones too but they didn't have it in Lucite Sliver so I tracked down "Drop" earrings which had the same cut of lucite in red and and modded them by prying off the gold.


Hair:
I dyed my hair to get the look. Originally when I wore this I had very long hair that just needed a few extensions. (I got human hair ones and dyed them). I needed my sister's help for styling some of this since I'm crap at doing hair.  I recently cut a lot of my hair off though, so when I wore it again the extensions were really heavy and the ponytail fell after a few hours. I think I'll sew my extensions into a simulation of a ponytail clip and use them like that for next time.

Boots:
The actual model they used is sold out/impossible to find now (they were DKNY), so I used the "Teva Afton" boot in 2 sizes up so I could get 4 inches of lifts in there to be ballerina height like Zoe… These boots are knee height, so I folded over the tops of the boots 2 inches and hand-sewed them down so they would be the correct height. This makes the boot tighter so it depends what your calf measurement is. 
I think they've come out with a new model that is shorter though, which would've helped… lmao. 
*checks*… yeah they did. "Teva Capistrano." I'd've bought this model if it had come out !!!! dammit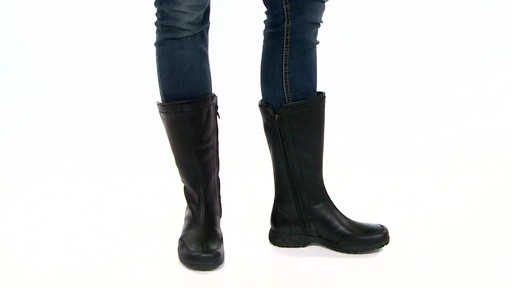 To finish the look I also bought a reboot phaser replica off ebay.
Thats it I think. Undergarments included dance tights and a spandex underbust leotard to help prevent riding up (since the dress is made out of jumbo spandex). And boot shafts like to get baggy when you wear an unnatural amount of lifts in there so I shoved two small 'pillows' I made in each boot to fill them out. I didn't wear fake eyelashes but Zoe did so maybe you wanna do that. And don't forget the most important thing— winged eyeliner!!
Anyway this is just what I did
hope this helps
~Glay
We finish eachother's s-
-pace. the final frontier. These are the voyages of the starship Enterprise. Its five-year mission- to explore strange new worlds, to seek out new life and new civilizations, to boldly go where no man has gone before.
People always go on about how great the 90s were what with the VHS tapes, Blockbuster night, Gameboys, the ins and outs of having to call your crush's home instead of a cellphone…

But nobody ever mentions that the 90s was a magnificent time to be alive for one thing in particular:

Two Star Trek series at the same time.

^this
(via spodiddly)
Sterek?

Nah

Sarek?

Hell yeah
(via problematize)